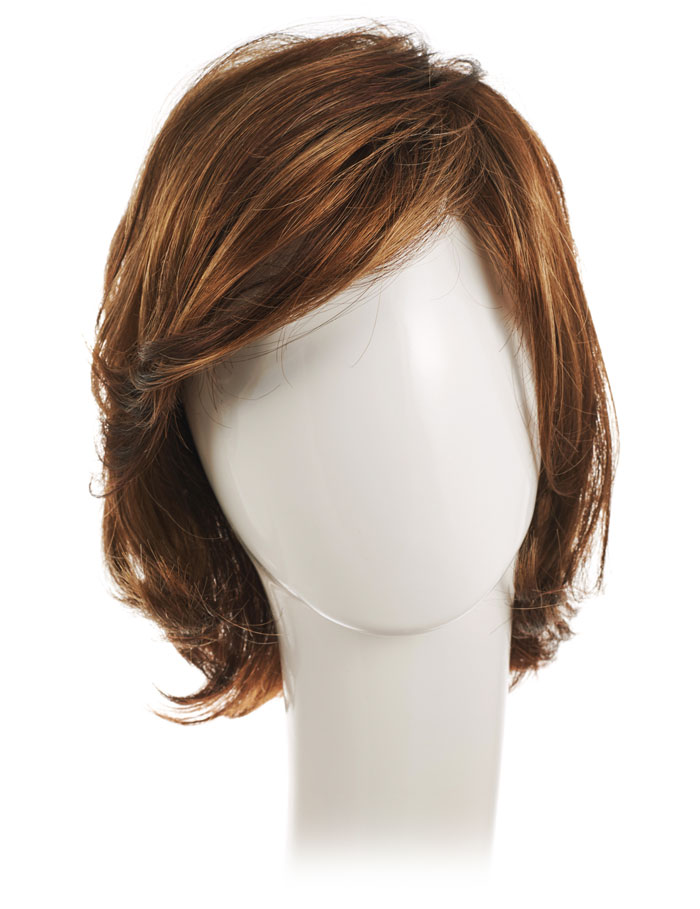 The best time to purchase a wig is before you start your treatments. You are still strong enough to be going out to try on wigs but also the wig technician you will be working with will see how you wear your hair and find a wig that resembles the colour and style. We encourage you to bring a family member or friend that will help you make the right choice. It is important to choose a wig that looks just like you and one that you feel comfortable in. We have several types of wigs in synthetic, blends and human hair.
Synthetic
Our wigs have the most innovative cap construction available on the market today. Our exclusive construction utilizes a double monofilament top which feels soft and silky inside the cap giving the appearance of actual hair growth right out of the scalp. Because this design replaces machine wefted strips with monofilament, it eliminates scratchy, irritating friction against the scalp. The wigs are light in weight and can be styled and parted in any direction just like natural hair. Some of our wigs also come with lace fronts and fully machine made.
More Synthetic Wigs
Blends (human hair and synthetic mix)
Our exclusive line of quality human hair and synthetic blend offers the easy care of synthetics with exceptional flexibility and styling versatility. They also offer full, beautiful and natural colour styling. The base of your wig should fit your head securely, without being too tight or too loose.
Human hair
Human hair wigs are considered the best choice for permanent hair loss or for women that like to wear their hair long. They feel so natural and can be permed, coloured and styled with a blow dryer, straightened or curled. We carry the finest human hair wigs in silky Indian hair as well as European hair.
More Human Hair Wigs
Head coverings
Protection from heat loss or exposure to the sun needs to be considered on a 24 hours basis. These fashionable hats, caps and scarves provide an alternative to your wig. Ask about the popular human hair face framer for under your head coverings. The Fabric is soft and comfortable, the styles are fashionable. We carry a full line of these head coverings.
More Head Coverings
In order for us to provide the caring and professional services we are known for, our medical related hair loss consultations are by appointment only. At Truly You we offer confidential one on one consultations in private rooms, and we pride ourselves at offering clients our undivided attention and time and ask that you respect this by calling ahead and scheduling your consultation.