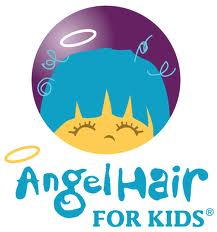 About the Angel Hair for Kids Program:
Angel Hair for Kids is a program of A Child's Voice Foundation that provides wigs and hair loss solutions to financially disadvantaged children in Canada who have lost their hair due to medical conditions or treatment. Using hair that is generously donated to the program, the foundation can create wigs and hair systems and provide them at no cost to the child's family. It takes 10-12 donated ponytails to make one hair prosthesis and $800 to $1000 is budgeted by the foundation to cover manufacturing and related costs.
Every year many children in Canada lose their hair due to conditions such as cancer treatments, alopecia and even burns. We believe that providing a wig or hair loss solution will increase a child's self esteem and improve their self image, during a difficult and sometimes painful time in their lives. We hope to help them face their condition and daily life with a greater confidence.
This special program  is the only one of its kind in Canada that is Canadian.
Every Angel Hair for Kids recipient is given a personal appointment at a salon that specializes in wigs and hair loss. These salons have been pre selected by the foundation due to their experience, ability and desire to work with children in need and volunteer their  time to the kids and the foundation. With care and compassion the experts walk the child and their family through the process of selecting a wig or hair loss solution that meets their needs. Once selected, the hair prosthesis is fitted and styled especially for that child, making it their very own. In addition, the child will receive a kit that includes a wig stand, shampoo, hair brush and care instructions. If a child is too ill to come in to the salon Angel Hair for Kids will arrange for a salon professional to come to them.
For more information about the program, sponsorship opportunities, or upcoming events, call 905-821-1092 or e-mail amalia@trulyyou.ca
Contact Details for a Childs Voice Foundation:
3034 Palstan Road Suite 301 Mississauga ON L4Y 2Z6
Website: http://www.acvf.ca/
Angel Hair for Kids Luncheon Gala Fundraiser
Thank you for joining us on Sunday November 25th, in a fun afternoon in support of the Angel Hair For Kids Program.
Our Luncheon Gala consisted of a variety of entertaining activities for guests of all age's. From our Mattel sponsored craft station, fun manicure's, face painting, hair show, silent auction and 'take a picture with your favorite celebrity' booth…this afternoon did not have a dull moment.
Featuring….
Star of Degrassi Melinda Shankar!
Host of YTV's the Next Star: Adamo Ruggiero
Celebrity Stylist to the Stars: Marc Anthony!